1:1 Coaching with Richa Bansal
When you have absolute clarity on your career path, gain unwavering self-confidence and learn to position yourself as the go-to leader, you have everything you need to command a career and compensation you deserve while leading a purpose-driven life.

Enroll for private coaching with Richa Bansal now!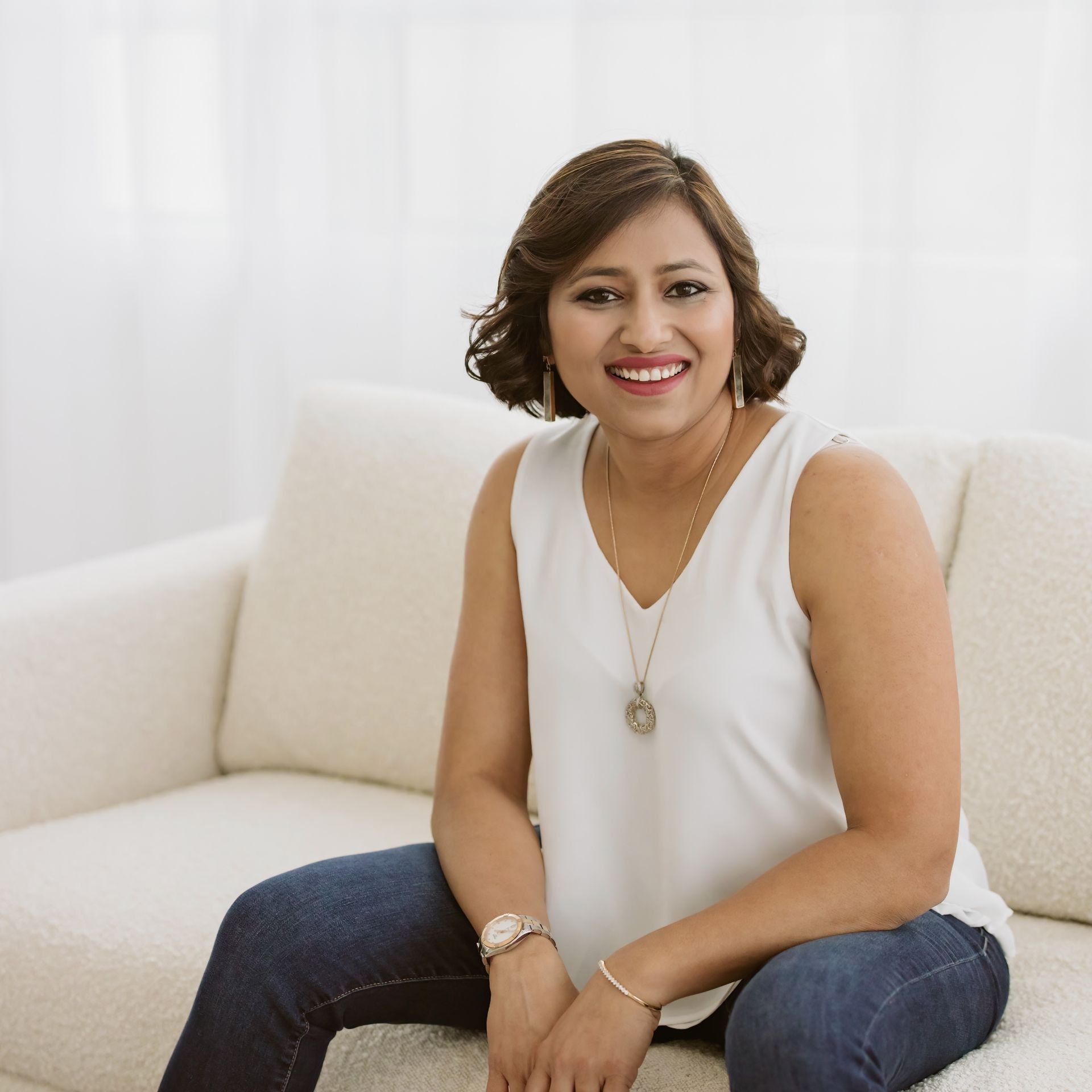 HEAR DIRECTLY FROM MY CLIENTS...
Karen positioned herself for a Product Strategy role.
MORE CLIENT LOVE
JAGRUTI
Utilities R&D Leader
"Without Richa's help, I wouldn't have been able to change industries."

Jagruti, an R&D Program Manager, learned to position her 10+ years of experience for the right role and level, improved her interview skills, changed industries, and went from being stuck in her career to increasing her total compensation by $85k.
DAVID
F500 Program Manager
"I landed my dream job with a multi 6-figure salary."
David, a F500 Program Manager ditched analysis paralysis to position his Tech experience for the right roles and level, landed a role with Amazon, and negotiated a $20k increase in sign-on bonus over and above a multi-six-figure compensation.
DR. YEMI
Senior Chemicals Scientist
"I got my first interview in two years."

Yemi, an accomplished chemical scientist ditched imposter syndrome, took back control of her mindset, used the Personal Branding Framework and Career Ideals Map to level up her Resume, and landed 5 interviews with less than 20 applications.
AJAY
Director, Supply Chain Operations
"I negotiated a high six figure salary."
Ajay, Director of Operations at a mid-sized Supply chain company, got the accountability he needed to step outside of his comfort zone, land the right role aligned with his 10-year career goals, and negotiate a high six-figure salary.
DR. JOSIANE
Data Scientist
"I negotiated a $20k salary raise."

Josiane, a geophysicist turned data scientist, got the confidence to own her Ph.D., started applying for Sr. Data Scientist roles instead of only entry-level roles, and landed an offer with MD Anderson, the largest cancer hospital in the US, while negotiating a $20k salary increase.
RENUKA
Senior Data Analyst
"I quit my toxic boss and negotiated a $25k salary increase."
Renuka, a 50+ year old consultant, found the courage to quit her toxic boss, landed a $25k salary increase, and is creating a massive impact on the community by helping international students through the college application process.
HI, I'm RICHA!
I help ambitious, high performing women stop playing safe and command the career and compensation they deserve while leading a purpose driven life.
As a brown immigrant woman with 12+ years of experience with two of the largest F500 companies in the Energy and Tech industries, I have seen firsthand the challenges women face while rising up the corporate ladder.
I was told I didn't belong. That I cannot succeed in the corporate world without pulling 60+ hour weeks. That I cannot have it all.
For a little while, I believed them. But then, I decided to prove them wrong by making ONE change.


I decided to become the CEO of my career.

The results were quite phenomenal!
I got 5 promotions in 10 years, leading large programs with CEO level visibility.

I graduated top of my MBA class while working full time and having my first kid.

I transitioned from the Oil & Gas industry to a $200k+ leadership role in the Tech industry.

I partnered with 15+ federal departments to create the only Women's Leadership Program for non-executive women across the Government of Canada.

I created a thriving multi-six-figure coaching and career education business on the side of working a full-time role at Amazon.
We indeed can have it all and I will show you how!
What's included in your program
Deepdive clarity session
In this initial 2.5 hour deepdive session, we will get clear on your career and job search goals, and the biggest challenges you are facing in achieving them. We will also use our signature POWER tool to get clear on target roles, transferrable skills and high-impact business results, so you can 10x your confidence to make your next best career move.
Custom plan with targeted goals
In the 1:1 coaching program, we create three goals with clear success metrics, so you get the accountability you need to multiply your ROI in the program.
Twelve 55 minute 1:1 calls with Richa
Meet with Richa every other week for a strategic 1:1 coaching call, so you can make fast progress on your career goals. Depending on your unique coaching goals, these calls will be used for Resume review, mock interviews, promotion conversation, addressing workplace situations, and more.
Proven templates and scripts
Get access to proven, battle-tested templates and scripts so you are never second guessing your Resume, hesitating to have your next networking call or shying away from salary negotiations conversation. These are the same templates and tools that helped Richa earn 5 promotions in 10 years and transition to a $200k+ role with Amazon.
On-demand chat support
Inside of the 1:1 coaching program, we never leave you hanging. In addition to the scheduled 1:1 Zoom calls, get on-demand (within reason) support from Richa over chat so you always have a sounding board in your corner!
Weekly group coaching calls
Get VIP access to weekly group coaching calls (for job search clients) so you can benefit from the power of the community of like-minded, high-achieving women!
MORE CLIENT LOVE
BHAGYASHREE
MBB Consultant and Chief of Staff
"I got my dream job and salary."

Bhagyashree, a senior Strategy & Ops leader with 8+ years of MBB and Startup experience regained self-confidence in her ability to replicate her past results and got clarity on her next career steps. She negotiated a 12% salary increase, landing her dream role and compensation with the Birla Group, one of India's largest conglomerate.
KAREN
Senior Strategy Leader at F500 Tech
"I learned to communicate my worth."
Karen, an MBA intern at HP, got clarity on her personal brand and long-term career goals. She learned to communicate her worth, positioned herself as the top candidate for an internal product strategy role, and had the hard negotiations conversation with her manager to increase her sign-on bonus by 60%.
AAKANKSHA
Business Development Professional
"I got a contract role of my choice on my terms and conditions."

Aakanksha, a business development professional and 2X founder, remembered her forgotten results, built back her self-confidence, ended her 2+ years job drought, and landed a contract role of her choice with CNR, one of the largest ENP producers in the North Sea.
UMEMA
Systems Engineer
"I got a role that's aligned with my purpose."
Umema, a Systems Engineer, ditched short-term thinking to connect back with her purpose and 5-year career goals, and learned to use data-driven negotiation strategies to land a $200k+ offer at Apple.
FAITH
Program Manager
"Richa's self-promotion strategies are helping me grow quickly in my organization."

Faith, an experienced Program Manager, used the step-by-step process for building a personal brand, stakeholder mapping, and OWN IT © self-promotion framework to position herself as the go-to-leader and quickly accelerate to leadership roles at Humana, one of the largest health insurance companies.
SIMRAN
Consultant
"I learned to say No at work."
Simran, an analyst at a Supply Chain consulting firm, ditched imposter syndrome, gained confidence in her results and learned to say no at work to preserve her work life balance. This helped her find the time to prepare for her next career step and move to Bain & Company to pursue better opportunities.
THE TESTIMONIALS KEEP COMING!
Josiane negotiated a $20k salary increase.


Bhagyashree gained back her self-confidence.
1:1 Coaching Program with Richa Bansal
Standout to the Recruiters!
Join the 5-day Pitch Perfect challenge to get awesome tips on how to craft the perfect Resume, Cover Letter and LinkedIn profile.


Claim 2 hours/day back!
Join the 10-day challenge to get one awesome productivity hack per day in your inbox.


4 Steps to Fast-Track Your Transition to Tech
Saturday
22 January, 2023
@ 11 am PST / 2 pm EST
Fast-Track Your Transition to Tech
8-week Group Coaching Program to help you land a $200k+ dream job without applying to 100s of applications online.
Thursday
7 Sept, 2023
@ 8:30 pm EST
Recession Proof Your Career: 3 Step Strategy to Land Your Dream Job in Any Market
Saturday
7 October, 2023
@ 9 am PST / 12 pm EST
Created with