GET UNSTUCK: A Proven 4 Step Strategy to Land Your Next $25k - $150k Promotion
Learn the exact 4-step strategy I used to land 5 promotions in 10 years, transition to a $200k+ role at Amazon, create a multi-six-figure business and build a career on my own terms
Watch the Replay
OWN YOUR CAREER
Quit playing safe and command the career and compensation you deserve.
When you have absolute clarity on your career path, gain unwavering self-confidence and learn to position yourself as the go-to leader, you have everything you need to command a career and compensation you deserve while leading a purpose-driven life.

Inside of Own Your Career program, you will get the mindset, strategies, and accountability you need to get unstuck and land your next $25k - $150k promotion.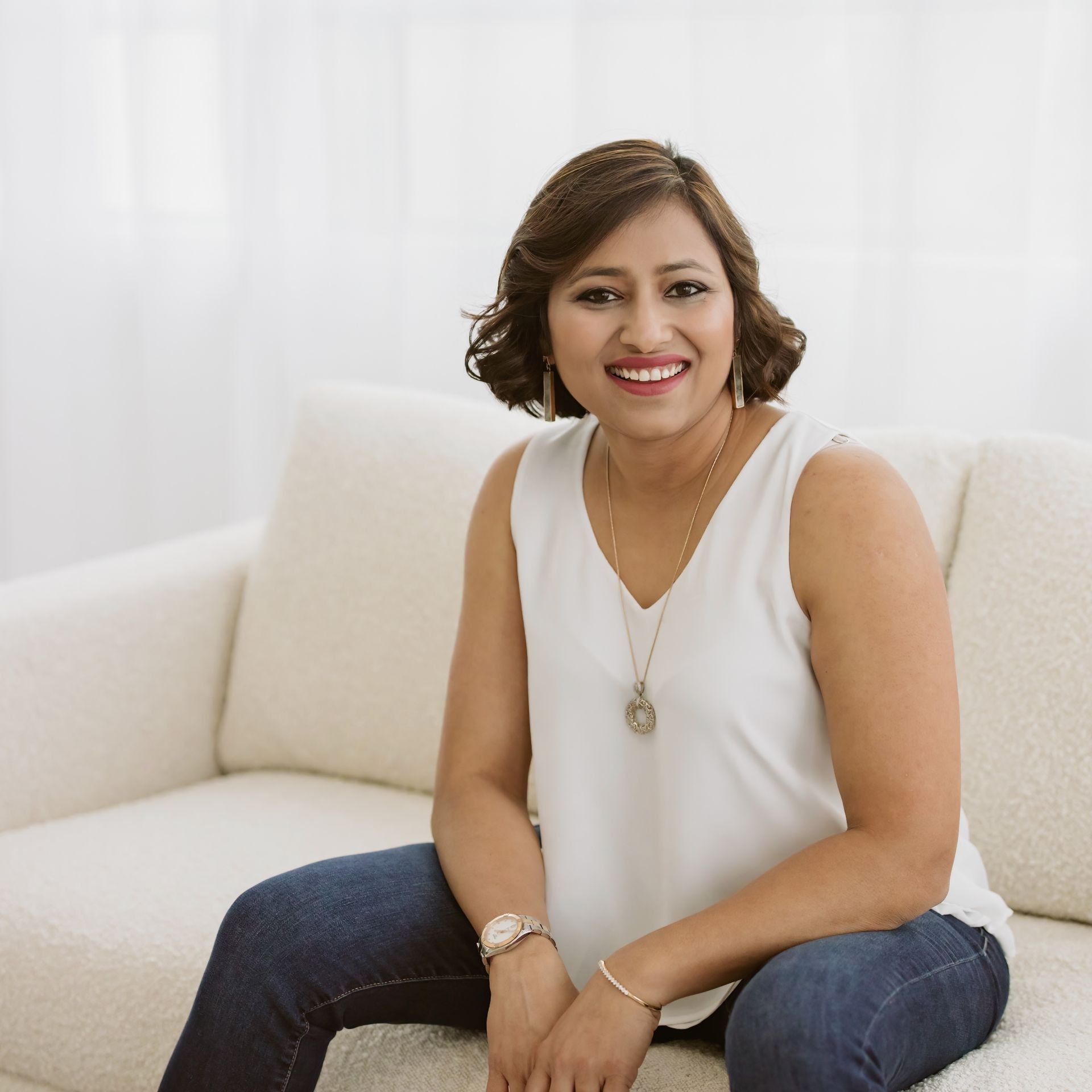 FAST ACTION BONUS EXPIRES IN...

Sign up by 7 May, 11:59 pm ET, and get your 45 minutes 1:1 career strategy session with Richa. This one session alone will help you gain massive clarity on your path to leadership roles, get unstuck and 10X your career growth.
THE #1 LIFETIME ACCESS CAREER ACCELERATOR FOR AMBITIOUS WOMEN WHO WANT TO BUILD THEIR CAREERS ON THEIR OWN TERMS.
IF YOU ARE NOT IN THE DRIVER'S SEAT OF YOUR CAREER, SOMEONE ELSE WILL.
Between the fear of making the wrong career move, a limiting mindset around your skills and experience, constant self-doubt, a turbulent economy and the perpetual narrative that women can't have it all, I know that reaching leadership positions without sacrificing your family or personal wellbeing seems like a lost dream.


I KNOW HOW YOU FEEL BECAUSE I FELT THE SAME.

But by making just ONE change, I healed my relationship with imposter syndrome, ditched the fear of falling behind in my career, took back control of my time, positioned myself as the go-to-leader and fearlessly negotiate my worth.

I DECIDED TO BECOME THE OWNER OF MY CAREER.

This ONE change, allowed me to land 5 promotions in 10 years, lead CEO level visibility program for two of the largest F500 companies and command a $200k+ compensation despite being the only woman in the room.

It's time to finally command the career and compensation you deserve, and I WILL SHOW YOU HOW!
You are overridden with limiting beliefs and imposter syndrome, fearing sooner or later, people will find out that you are not good enough.


You want to be recognized for the hard work and the value you bring to the table, but instead are stuck in the same role.

You are constantly in the doer mode, overwhelmed with everything that's on your plate, routinely working late into the night, leaving little time for you or your family.

You want to be a present parent and an example your kids can look up to.

You want to be fairly compensated for your level of education, experience and expertise.

You regularly land interviews at the next level but are unable to convert them into high paying job offers.

You want to create massive impact at work and outside, that leaves a legacy bigger than you.
At the end of the day, you want a career and compensation you deserve on your own terms, but can't seem to find the path.
HERE'S WHAT IS NEEDED TO GET YOU FROM WHERE YOU ARE TO WHERE YOU WANT TO BE
HINT: IT'S NOT JUST ANOTHER JOB, A FANCY NEW RESUME TEMPLATE, AN MBA, THE POPULAR BOOTCAMP, OR SIMPLY WORKING HARDER.
Empty space, drag to resize
A TOUGH LOVE COACH WHO CAN BE REAL WITH YOU
A LIKE-MINDED COMMUNITY OF AMBITIOUS WOMEN TO SUPPORT YOU AND KEEP YOU ACCOUNTABLE
A PROVEN STEP-BY-STEP PROCESS THAT HAS HELPED DOZENS GET UNSTUCK AND LAND $25K-$150K PROMOTIONS
OWN YOUR CAREER
A lifetime access career coaching program for ambitious women who are ready to quit playing safe and command the career and compensation they deserve, while building a purpose-driven and balanced life.
THROUGH A COMBINATION OF LIVE COACHING, COURSEWORK AND COMMUNITY, YOU'LL LEARN HOW TO:
Make foundational shifts in your mindset and confidence so you can build the career of your dreams on your own terms.

Ditch the negative cycle of self-doubt and limiting beliefs for good and gain unwavering self-confidence in the value you bring to the table.

Overcome analysis paralysis and get extreme clarity on your path to the c-suite so you can maximize your leadership potential.

Take back control of your time and become a purpose-driven balanced professional that your kids are proud of.

Command the high and multi six-figure compensation that reflects your education, expertise and experience.
HEAR DIRECTLY FROM OUR CLIENTS...
Karen positioned herself for a Product Strategy role.
MORE CLIENT LOVE
JAGRUTI
Utilities R&D Leader
"Without Richa's help, I wouldn't have been able to change industries."

Jagruti, an R&D Program Manager, learned to position her 10+ years of experience for the right role and level, improved her interview skills, changed industries, and went from being stuck in her career to increasing her total compensation by $85k.
DAVID
F500 Program Manager
"I landed my dream job with a multi 6-figure salary."
David, a F500 Program Manager ditched analysis paralysis to position his Tech experience for the right roles and level, landed a role with Amazon, and negotiated a $20k increase in sign-on bonus over and above a multi-six-figure compensation.
DR. YEMI
Senior Chemicals Scientist
"I got my first interview in two years."

Yemi, an accomplished chemical scientist ditched imposter syndrome, took back control of her mindset, used the Personal Branding Framework and Career Ideals Map to level up her Resume, and landed 5 interviews with less than 20 applications.
AJAY
Director, Supply Chain Operations
"I negotiated a high six figure salary."
Ajay, Director of Operations at a mid-sized Supply chain company, got the accountability he needed to step outside of his comfort zone, land the right role aligned with his 10-year career goals, and negotiate a high six-figure salary.
DR. JOSIANE
Data Scientist
"I negotiated a $20k salary raise."

Josiane, a geophysicist turned data scientist, got the confidence to own her Ph.D., started applying for Sr. Data Scientist roles instead of only entry-level roles, and landed an offer with MD Anderson, the largest cancer hospital in the US, while negotiating a $20k salary increase.
RENUKA
Senior Data Analyst
"I quit my toxic boss and negotiated a $25k salary increase."
Renuka, a 50+ year old consultant, found the courage to quit her toxic boss, landed a $25k salary increase, and is creating a massive impact on the community by helping international students through the college application process.
THE OWN YOUR CAREER FRAMEWORK FOR CREATING A CAREER AND LIFE ON YOUR OWN TERMS.
BRAND - BALANCE - BUILD - BANK
BRAND
AUTHORITY POSITIONING SYSTEM
Strategize a 3-5 year career roadmap that's aligned with your purpose and values using the Career Ideals Framework©.

Articulate your unique value proposition that aligns with your superpowers, magnifies the value you bring to the table, and positions you as the go-to leader using the 6P Framework©.

Create a 30-60-90 day onboarding plan for any new role or job, so you can hit the ground running and control the growth trajectory of your career in the new role.

BALANCE
TIME MANAGEMENT SYSTEM
2X your productivity by creating powerful systems that move you from the Doer mode to your Zone of Genius and gives you 2 hours/day back to spend on impact-driven personal endeavours.

Break the cycle of burnout and overwhelm by getting comfortable with saying no to busy work without hesitation, guilt or fear of retaliation.

Communicate assertively with all levels of leadership in a way that radiates confidence and authenticity while elevating your executive presence.

BUILD
ACCELERATION SYSTEM
Manage your manager so they can help you level up in your career. Set clear goals and KPIs so you have a clear path to an excellent performance review, promotion and salary negotiation conversation.

Get comfortable with office politics and build political currency with senior stakeholders who can advocate for you for high-visibility projects and roles.

Build executive presence by learning to present your message in a compelling way that elevates your contributions, guarantees buy-in from senior executives and positions you for the next level opportunity.

BANK
MONEY SYSTEM
Strategically self-promote by leveraging storytelling techniques and the unique OWN IT framework © so you can confidently toot your own horn in front of the right stakeholders and strengthen your position as the go-to leader.

Network like a pro so you can strategically elevate your personal brand and authority, convert mentors into sponsors, and secure opportunities that move you from cost-center to profit-center ownership.

Sky-Rocket your compensation by creating a data-driven business case for salary raise, promotion or job offer negotiation. Lead the conversation with confidence and ease and command the career and compensation you deserve.

WHAT'S INCLUDED IN THE PROGRAM
1
Weekly live
training
12 weekly trainings where you learn step-by-step, proven and actionable strategies to position yourself as the go to leader, ditch imposter syndrome for good, build strategic networks and negotiate your worth. All trainings are held on Tuesdays from 12 - 1pm ET and recording is made available through the private client portal.
2
Weekly group coaching
Listen to Richa create mind blowing ah-ha moments during the weekly group coaching calls. You can raise your hand to get coached or get the same level of transformation by just listening in to the calls. All coaching calls are held on Thursdays from 12 - 1:30pm ET and recording is made available through the private client portal.
3
Job search
support
Whether you want to level up in your current job or move out and up, we have you covered. Get access to my bonus job search material, the same one that helped me transition industries and land a $200k+ role with Amazon, and helped my dozens of 1:1 clients land their dream jobs.
4
Personalized chat support
Unable to land interviews despite 100s of applications? Getting nervous about an upcoming chat with your VP? Get unlimited personalized support on what you can improve through our active Slack group chat. We respond based on your unique situation and give you coaching and feedback tailored to you so you can start seeing results.
5
Proven scripts and templates
We got you covered, whether it is creating your personal brand statement, having a hard conversation with your peer, leading a promo discussion with your boss, or negotiating your salary for a new job. Each training comes with detailed proven and actionable scripts and templates so you can start taking action and seeing results now!
6
Community of ambitious women
Ask questions, get feedback, build community, and support fellow, ambitious, like-minded ladies inside of our private Slack group that is simple to navigate. Drop any mindset block, career challenge or job search issue, get personalized feedback from Richa and her coaching team and see 10x growth in your career.
7
Interview
clinic
No more guessing if you are doing your interviews right. Inside of the Interview Clinic, Richa demonstrates the art of interviewing using mock interview examples and provides live reviews on real interviews so you know exactly how to answer any question with confidence, and convert any interview into high-paying job offer.
8
Growing library of bonus courses
Get access to our ever growing library of career acceleration and job search curriculum. Get access to all program updates, webinar recordings, fireside chats with executive women, and break through frameworks that Richa implements with her 1:1 clients.
9
First dibs on future live events
As a founding member of the Own Your Career community, you will get first dibs on attending our action-packed and life-changing virtual and in-person conferences. Get an opportunity to get coached by Richa live, and made massive leaps towards commanding your career and compensation on your own terms.
THE BEST PART? EVERYTHING IS LIFETIME ACCESS, INCLUDING THE WEEKLY COACHING AND COMMUNITY. WE GOT YOU FOR LIFE.

WE WILL COACH YOU UNTIL YOU LAND YOUR NEXT PROMOTION.

A POWERFUL COMMUNITY OF LIFE-MINDED, AMBITIOUS PROFESSIONAL WOMEN LIKE NO OTHER YOU WILL EVER FIND
In the Own Your Career community, you will never be the only woman in the room.

Every question is answered, every win is celebrated, every failure is solved, and every challenge is cracked. Scroll through the Slack community and you'll find job search problems being addressed, Resumes being reviewed, strategic advice being given, and promotions being celebrated left and right. This energy of the community and the relationship you will form here alone will 10X your career growth.

And the best part is, this group looks like you. It's filled with ambitious, high performing women you are leading powerful careers, raising babies, building impact driven communities and having it all, ON THEIR OWN TERMS!


FAST ACTION BONUS EXPIRES IN...

Sign up by 7 May, 11:59 pm ET, and get your 45 minutes 1:1 career strategy session with Richa. This one session alone will help you gain massive clarity on your path to leadership roles, get unstuck and 10X your career growth.
MEET THE FOUNDER AND CEO
Hi, I'm
Richa!
I help ambitious, high performing women stop playing safe and command the career and compensation they deserve while leading a purpose driven life.
As a brown immigrant woman with 12+ years of experience with two of the largest F500 companies in the Energy and Tech industries, I have seen firsthand the challenges women face while rising up the corporate ladder.
I was told I didn't belong. That I cannot succeed in the corporate world without pulling 60+ hour weeks. That I cannot have it all.
For a little while, I believed them. But then, I decided to prove them wrong by making ONE change.


I decided to become the OWNER of my career.

The results were quite phenomenal!
I got 5 promotions in 10 years, leading large programs with CEO level visibility.

I graduated top of my MBA class while working full time and having my first kid.

I transitioned from the Oil & Gas industry to a $200k+ leadership role in the Tech industry.

I partnered with 15+ federal departments to create the only Women's Leadership Program for non-executive women across the Government of Canada.

I created a thriving multi-six-figure coaching and career education business on the side of working a full-time role at Amazon.
We indeed can have it all and I will show you how!
MORE CLIENT LOVE
BHAGYASHREE
MBB Consultant and Chief of Staff
"I got my dream job and salary."

Bhagyashree, a senior Strategy & Ops leader with 8+ years of MBB and Startup experience regained self-confidence in her ability to replicate her past results and got clarity on her next career steps. She negotiated a 12% salary increase, landing her dream role and compensation with the Birla Group, one of India's largest conglomerate.
KAREN
Senior Strategy Leader at F500 Tech
"I learned to communicate my worth."
Karen, an MBA intern at HP, got clarity on her personal brand and long-term career goals. She learned to communicate her worth, positioned herself as the top candidate for an internal product strategy role, and had the hard negotiations conversation with her manager to increase her sign-on bonus by 60%.
AAKANKSHA
Business Development Professional
"I got a contract role of my choice on my terms and conditions."

Aakanksha, a business development professional and 2X founder, remembered her forgotten results, built back her self-confidence, ended her 2+ years job drought, and landed a contract role of her choice with CNR, one of the largest ENP producers in the North Sea.
UMEMA
Systems Engineer
"I got a role that's aligned with my purpose."
Umema, a Systems Engineer, ditched short-term thinking to connect back with her purpose and 5-year career goals, and learned to use data-driven negotiation strategies to land a $200k+ offer at Apple.
FAITH
Program Manager
"Richa's self-promotion strategies are helping me grow quickly in my organization."

Faith, an experienced Program Manager, used the step-by-step process for building a personal brand, stakeholder mapping, and OWN IT © self-promotion framework to position herself as the go-to-leader and quickly accelerate to leadership roles at Humana, one of the largest health insurance companies.
SIMRAN
Consultant
"I learned to say No at work."
Simran, an analyst at a Supply Chain consulting firm, ditched imposter syndrome, gained confidence in her results and learned to say no at work to preserve her work life balance. This helped her find the time to prepare for her next career step and move to Bain & Company to pursue better opportunities.
FAST ACTION BONUS EXPIRES IN...

Sign up by 7 May, 11:59 pm ET, and get your 45 minutes 1:1 career strategy session with Richa. This one session alone will help you gain massive clarity on your path to leadership roles, get unstuck and 10X your career growth.
HEAR DIRECTLY FROM OUR CLIENTS
Josiane negotiated a $20k salary increase.


Bhagyashree gained back her self-confidence.
ARE YOU READY TO QUIT PLAYING SAFE AND COMMAND THE CAREER AND COMPENSATION YOU DESERVE?
12 weekly LIVE career acceleration trainings


Unlimited weekly group coaching


Unlimited personalized chat support


Community of ambitious, high-performing women


Done for you templates and scripts


Community LIVE events


First dibs on in-person events


45 Mins 1:1 Strategy Session (Early Sign up BONUS)

FREQUENTLY ASKED QUESTIONS
That is entirely up to you. Once you join Own Your Career, you are granted lifetime access to the program, including the client portal, our weekly live coaching calls, the Slack community, and any future community events. This is the only program you will need to help you land your next six-figure job or promotion.
Am I a good fit for this program?
If you are an ambitious, high-performing professional woman without direct reports who is aspiring for Lead, Manager and Sr. Manager roles, and wants to fast-track their growth without scaling up their hours, then this program is for you. If you prior experience managing teams and have 10+ years of experience under your belt, you will still benefit immensely from the structured proven curriculum and group accountability of the program, and should also consider 1:1 coaching add-on to fast-track your move to Director and CXO roles.
If you want to talk to a team member to understand whether the program is the right fit for you, email
[email protected]
.
This program is not for you if you are looking for shortcuts to a $200k+ job, are not open to alternate perspectives, or are not ready to put in the work necessary to deliver outstanding results at work, build your personal brand or strategic visibility.
What's included with my purchase?
Powerful 4-step Own Your Career Framework
12 live career acceleration trainings
Weekly group coaching calls
Unlimited access to Slack community of like-minded ambitious women
Unlimited personalized support over group chat
Interview clinic
Access to Own Your Career coaching team and community
Done for you action guides, templates and scripts for job search and workplace conversations
Growing library of job search and leadership trainings
First dibs on future in-person events
When are the classes held?
The live classes start in June and run till September. All career trainings are scheduled for Tuesdays at 12pm - 1pm ET over Zoom and recording are shared. Weekly group coaching calls will be held every Thursday at 12pm - 1:30pm ET over Zoom and recordings will be shared. Schedule for Bonus live events, guest panels and trainings will be shared as it is made available.
What results can I expect?
Like any other coaching program, the results you get from OWN YOUR CAREER program depend on the efforts you put in. If you attend all career training, participate in the weekly coaching calls, and implement all the concepts that are taught in the program, you will land your next job or promotion within 90-180 days. If you need further support, you are always covered because our program is lifetime access. For full terms and conditions, see T&C.
Is there a payment plan available?
Yes, ofcourse. You can enroll in the program for $2497 USD paid in full or 6 monthly payments of $497 USD. If you need further financial assistance, please email [email protected].
Will the program material be updated?
The Company will periodically make updates to the core program, and build on the growing library of client portal to make it even more valuable to our clients. You will have access to updated materials for as long as the Company continues to offer the Program to its clients, which is what is referred to as "Lifetime Access" in our marketing materials.
For full terms and conditions, see T&C.
Standout to the Recruiters!
Join the 5-day Pitch Perfect challenge to get awesome tips on how to craft the perfect Resume, Cover Letter and LinkedIn profile.


Claim 2 hours/day back!
Join the 10-day challenge to get one awesome productivity hack per day in your inbox.


4 Steps to Fast-Track Your Transition to Tech
Saturday
22 January, 2023
@ 11 am PST / 2 pm EST
Fast-Track Your Transition to Tech
8-week Group Coaching Program to help you land a $200k+ dream job without applying to 100s of applications online.
Thursday
7 Sept, 2023
@ 8:30 pm EST
Recession Proof Your Career: 3 Step Strategy to Land Your Dream Job in Any Market
Saturday
7 October, 2023
@ 9 am PST / 12 pm EST
Created with