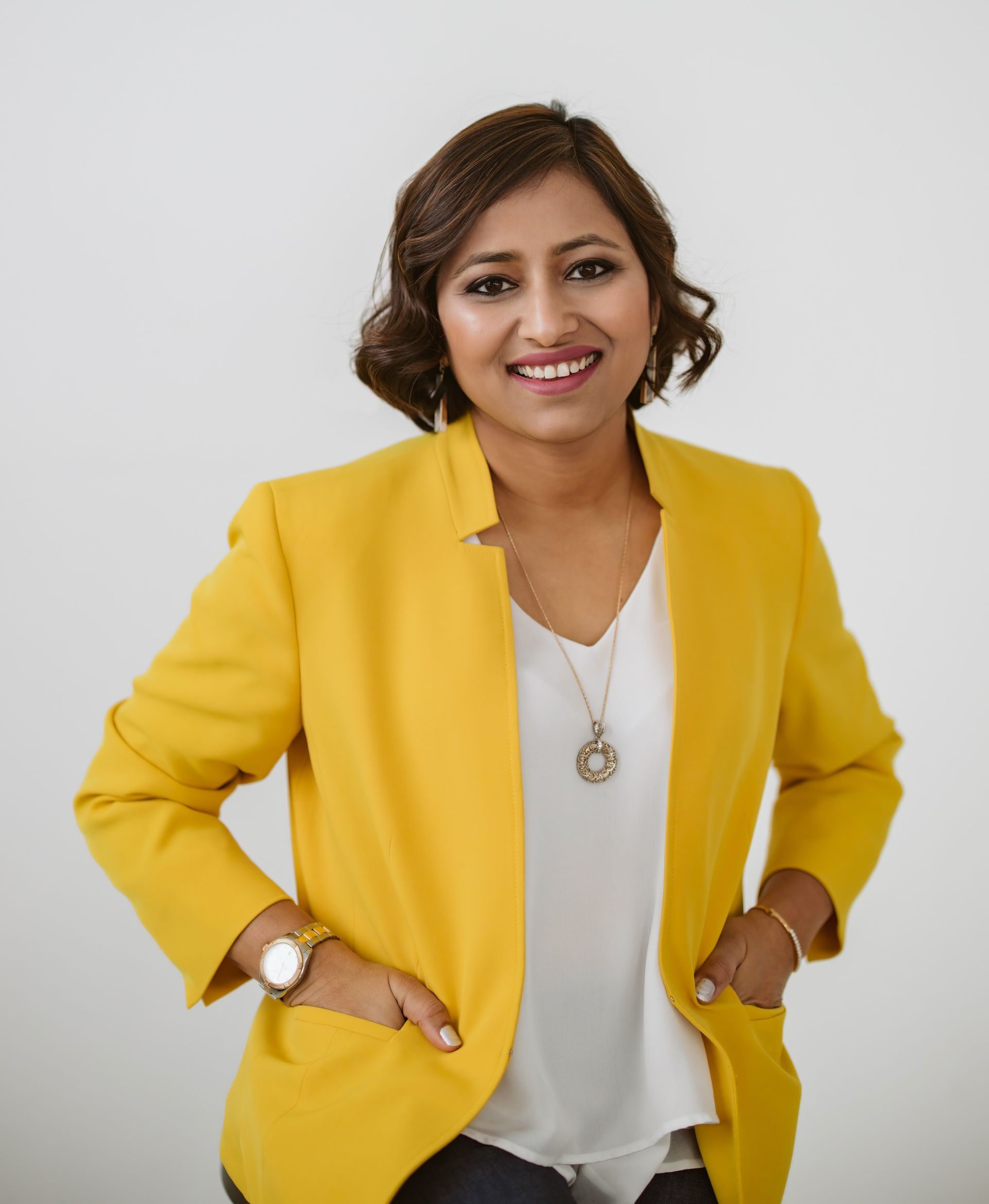 FREE MASTERCLASS
RECESSION PROOF YOUR CAREER
Learn the 3 step strategy I've used with dozens of my clients to help them land their dream jobs and $25k+ salary increases, recession or not!
Space is limited in this LIVE session, so register now!
Saturday
October 7, 2023
@ 9 am PST / 12 pm EST
Get ready to walk away with
3 mistakes keeping you from landing interviews for your dream role
The #1 tip for attracting recruiters and landing interviews right in your inbox
A proven 3-step strategy to fast-track your job search in any market
The secret to building unshakeable confidence so you can convert any interview into a $200k+ offer
If you apply the strategies you learn in my Masterclass, you will never need to rely on 'luck' or fear of a 'bad' market.
You cannot miss this FREE Masterclass if...
🙋 You are overridden with limiting beliefs and imposter syndrome, fearing you need more education or experience before you can even apply for the job.

🙋 You know you are ready for a leadership role but don't know where to start.

🙋 You have put in 100s of applications but nothing you do seems to be working.

🙋 You are an ambitious professional but are unable to either land interviews or convert them into high paying job offers.



🙋 You are a top performer and are done feeling under-appreciated and underpaid.

🙋 You are done tweaking your Resume and want to follow an exact, proven process to land you next job without wasting time or energy.
Learn the 3 step strategy I've used with dozens of my clients to help them land their dream jobs, negotiate $25k+ salary increases, and become recession-proof.
Check out just a few results from the strategies I teach in this Masterclass...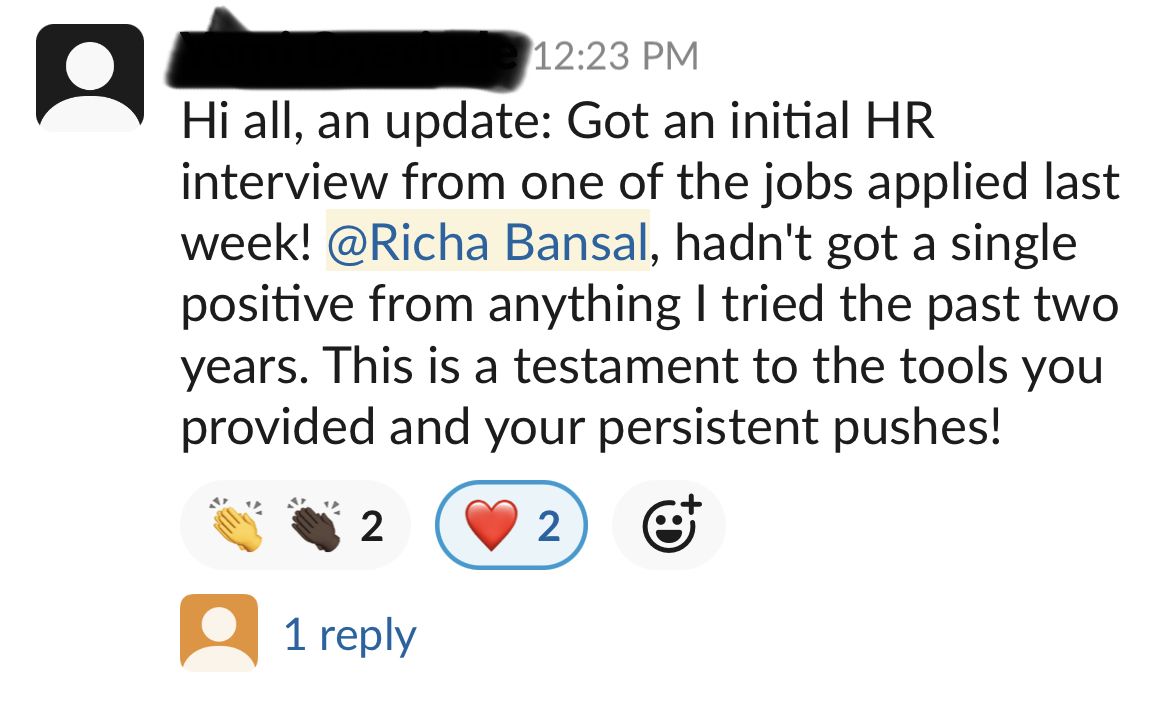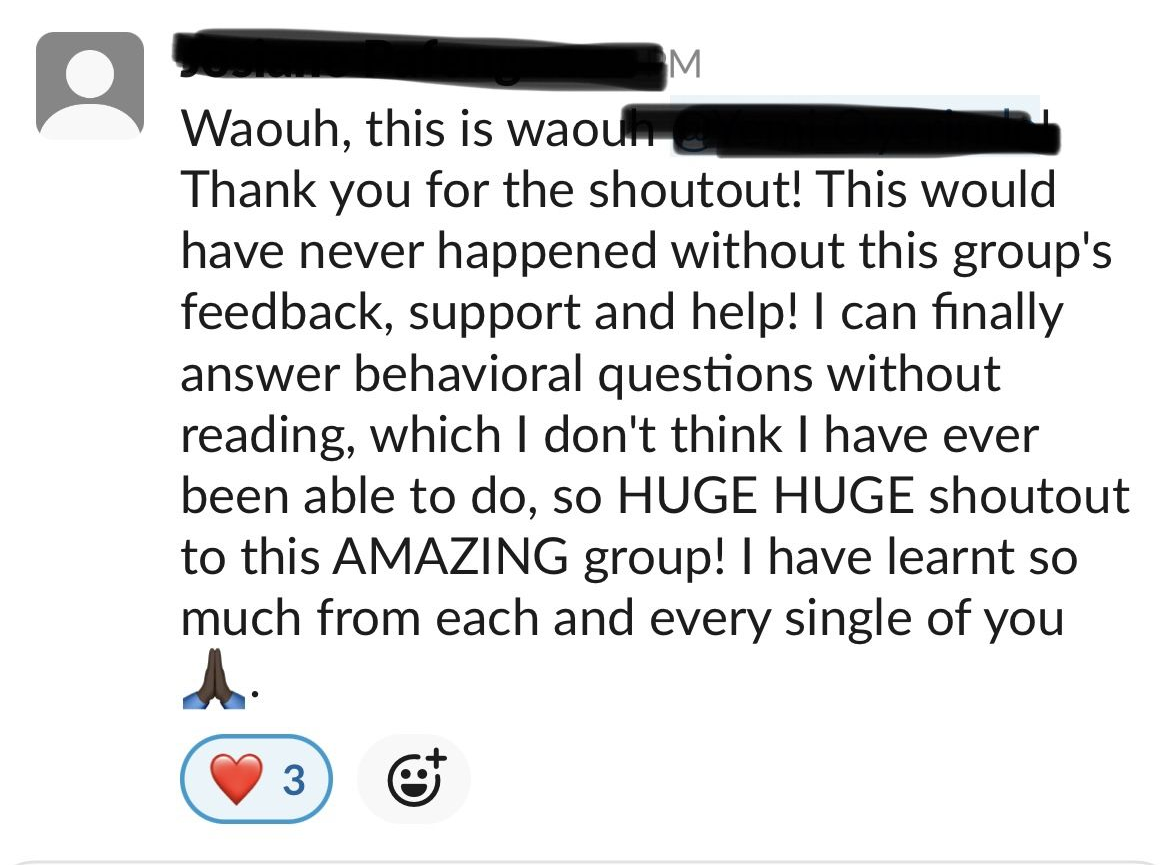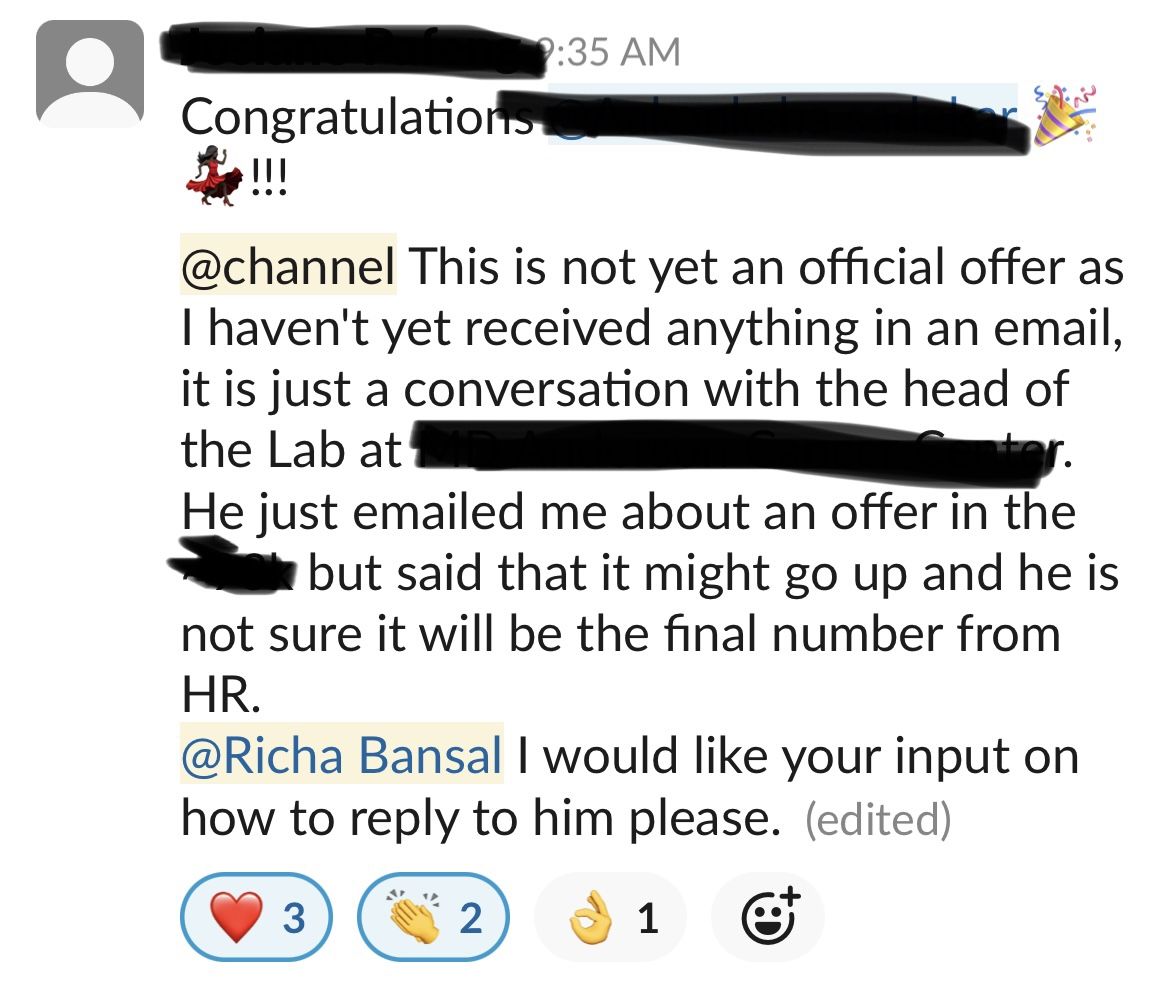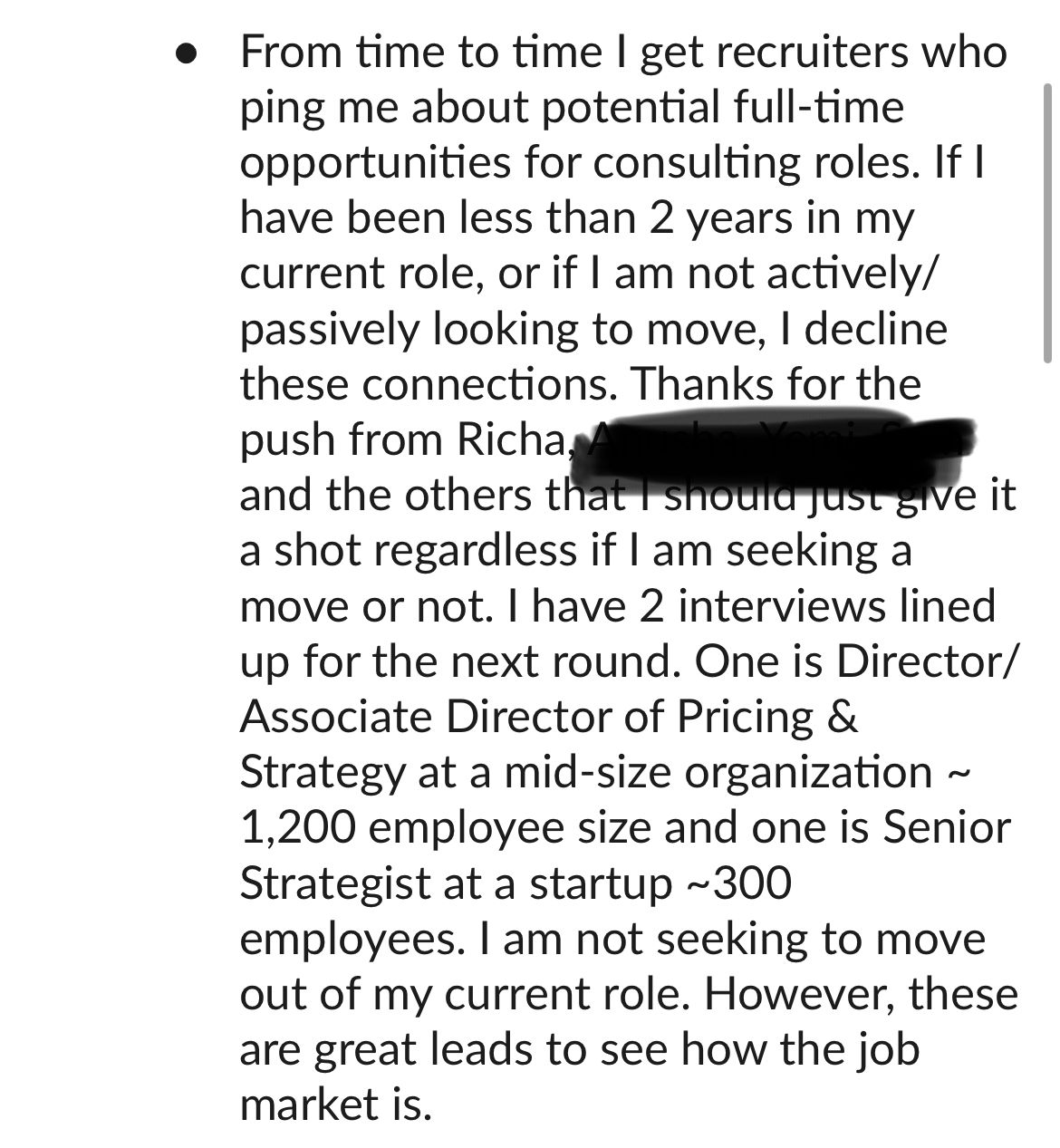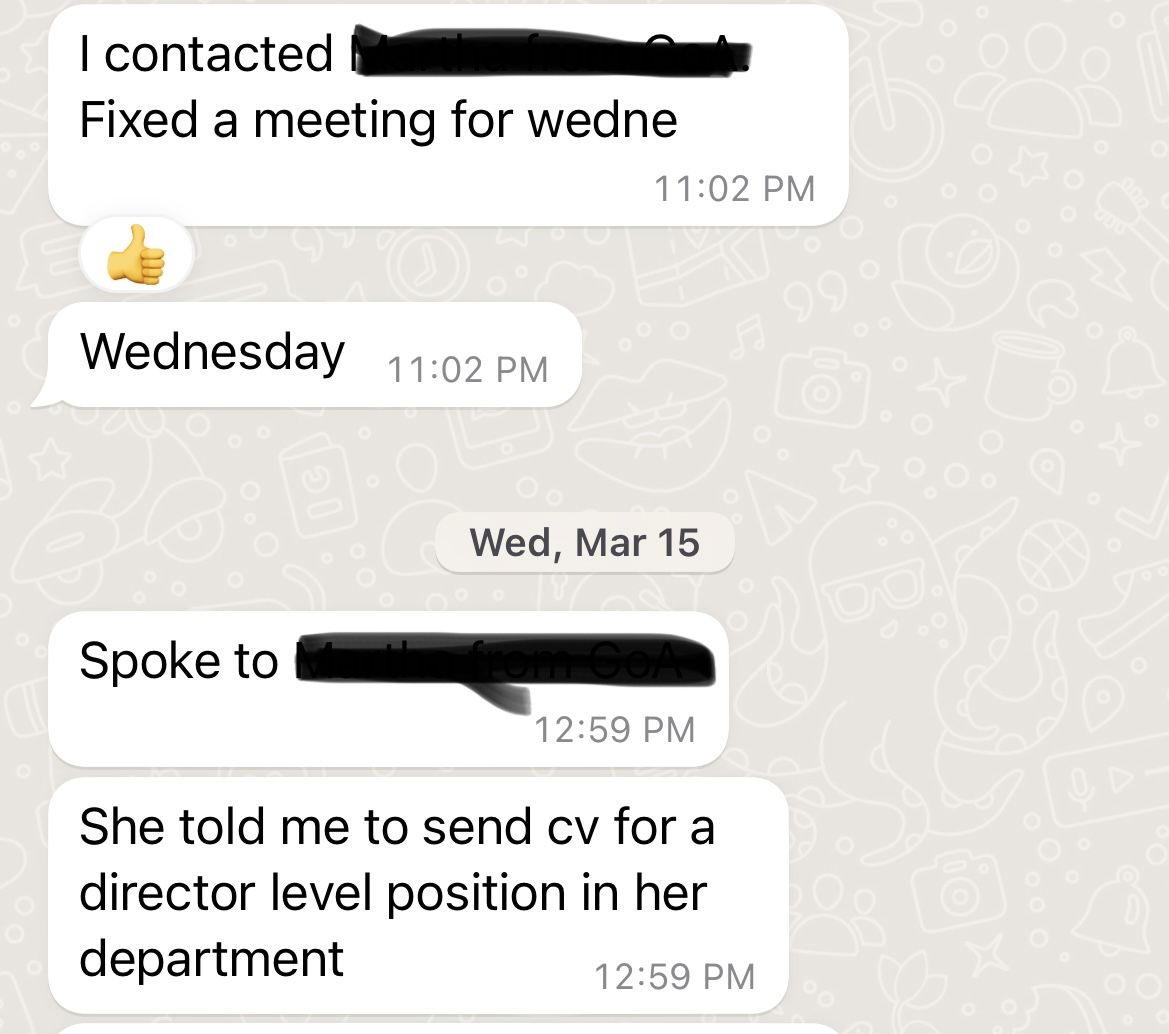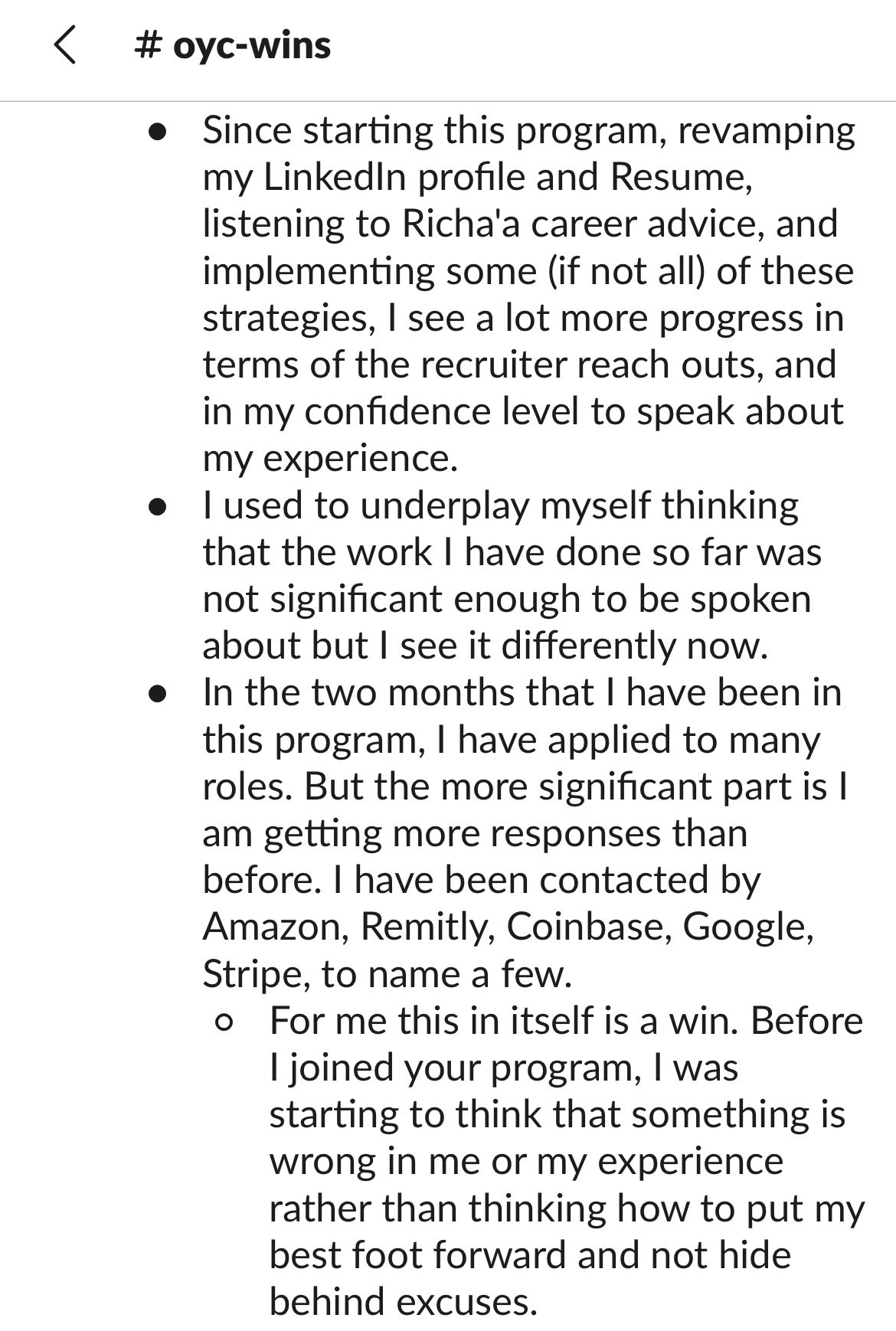 My Masterclasses are full of practical, actionable, real and raw advice, unlike any other FREE Masterclass you have ever attended. Zero fluff included!
Here's what past participants have said...
Thank you for such a great class! And I learnt some useful things among which sorting out functional vs domain expertise and the LinkedIn tip 'I am hiring' to find recruiters that are hiring. - J


Excellent Masterclass! Thanks for putting it together. - M


It was indeed a power packed and no fluff presentation, Richa. - J


Just wanted to say though - the master class was quite amazing. - S


Hi, Richa. I really loved learning in your Masterclass this Sunday. - Z
Calling action takers only
Since this training is valued at over $10,000 and I'm offering it for FREE…
I WANT ACTION TAKERS INSIDE.


After the training, doors to THE FEARLESS HIRE will be opening...trust me, you'll want to see this! It is my signature LIFETIME ACCESS job search accelerator program that helps high-performer quit limiting beliefs, land their dream job and negotiate $25k+ offer increase, regardless of the recession.


To be eligible for the "Action Taker" giveaway (a full ride scholarship to THE FEARLESS HIRE), you must prioritize showing up live and staying until the end.
Will there be a replay?
Yes, this Masterclass will be recorded and sent to you, if you can't make it live! 🎉


But as long as you sign up and share a screenshot of the free Masterclass on LinkedIn or Instagram, you will be automatically entered to win a full-ride scholarship to THE FEARLESS HIRE, my lifetime access job search accelerator.


* IF you prioritize showing up live, you will also be eligible for early signup bonus (and you will learn more)!
If you are ready to quit playing safe and command the career and compensation you deserve, you don't want to miss it!
Spots are limited as this is a LIVE Masterclass on Zoom.
Saturday
7 October, 2023
9 am PST / 12 pm EST
I help high achievers BE DONE struggling with imposter syndrome and land high-impact leadership roles = purpose, freedom and $$$.

As a brown immigrant woman with 12+ years of experience with two of the largest F500 companies in the Energy and Tech industries, I have seen firsthand the challenges women face while rising up the corporate ladder.

But after getting 5 promotions in 10 years, transitioning to a $200k+ role with Amazon without the tradition Tech experience and building a multi-six-figure business on the side of a full time job, I know that with the right mindset, strategy and accountability it is absolutely possible to build your career on your own terms!

I'm here to show you proven strategies so you can stop dreaming and finally commanding a career and compensation of your dreams!
CLIENT LOVE
JAGRUTI
Sr. Program Manager, Amazon
"Without Richa's help, I wouldn't have been able to change industries."

Jagruti, an R&D Program Manager, learned to position her 10+ years of experience for the right role and level, improved her interview skills, changed industries, and went from being stuck in her career to increasing her total compensation by $85k.
DAVID
TPM, Amazon
"I landed my dream job with a multi 6-figure salary."
David, a F500 Program Manager ditched analysis paralysis to position his Tech experience for the right roles and level, landed a role with Amazon, and negotiated a $20k increase in sign-on bonus over and above a multi-six-figure compensation.
BHAGYASHREE
COS, Aditya Birla Group
"I got my dream job and salary."
Bhagyashree, a senior Strategy & Ops leader with 8+ years of MBB and Startup experience regained self-confidence in her ability to replicate her past results and got clarity on her next career steps. She negotiated her dream role and compensation with the Birla Group, one of India's largest conglomerate.
UMEMA
Systems Engineer, Apple
"I got a role that's aligned with my purpose."
Umema, a Systems Engineer, ditched short-term thinking to connect back with her purpose and 5-year career goals, and learned to use data-driven negotiation strategies to land a $200k+ offer at Apple.
DR. JOSIANE
Sr. Data Scientist, MD Anderson
"I negotiated a $25k salary raise."

Josiane, a geophysicist turned data scientist, got the confidence to own her Ph.D., started applying for Sr. Data Scientist roles instead of only entry-level roles, and landed an offer with MD Anderson, the largest cancer hospital in the US, while negotiating a $25k salary increase.
AAKANKSHA
BDM, CNR
"I got a contract role of my choice on my terms and conditions."
Aakanksha, a business development professional and 2X founder, remembered her forgotten results, built back her self-confidence, ended her 2+ years job drought, and landed a contract role of her choice with CNR, one of the largest ENP producers in the North Sea.
Are you FINALLY ready to stop being on CRUISE CONTROL and Go ALL-IN on your success?
Spots are limited as this is a live Masterclass!!



*Everyone who registers will be sent the Masterclass replay*
Recession Proof Your Career: 3 Step Strategy to Land Your Dream Job in Any Market
Saturday
7 October, 2023
@ 9 am PST / 12 pm EST
Standout to the Recruiters!
Join the 5-day Pitch Perfect challenge to get awesome tips on how to craft the perfect Resume, Cover Letter and LinkedIn profile.


Claim 2 hours/day back!
Join the 10-day challenge to get one awesome productivity hack per day in your inbox.


4 Steps to Fast-Track Your Transition to Tech
Saturday
22 January, 2023
@ 11 am PST / 2 pm EST
Fast-Track Your Transition to Tech
8-week Group Coaching Program to help you land a $200k+ dream job without applying to 100s of applications online.
Thursday
7 Sept, 2023
@ 8:30 pm EST
Created with