PIVOT E-Learning
Be the leader you are meant to be.
Level up your leadership skills with live, expert-led classes and small peer-group learning.

Access unlimited live classes for $79/month.
"Live, expert-led experiences are one of the most
compelling ways to learn."
josh bersin, deloitte
About the Program
Without active reinforcement, people forget as much as 90% of what they learn within 30 days. That's why learning management systems that offer generic e-learning videos or one-and-done seminars do not meet the training demands of the modern workplace.

Pinkcareers offers a live, learning platform for modern and impactful skills development. We bring research and experience backed career advice to your workforce, on a schedule that works for them. All sessions are online, interactive, inclusive, and effective at giving your employees the skills they need to excel in the workplace.
Why Choose PIVOT E-learning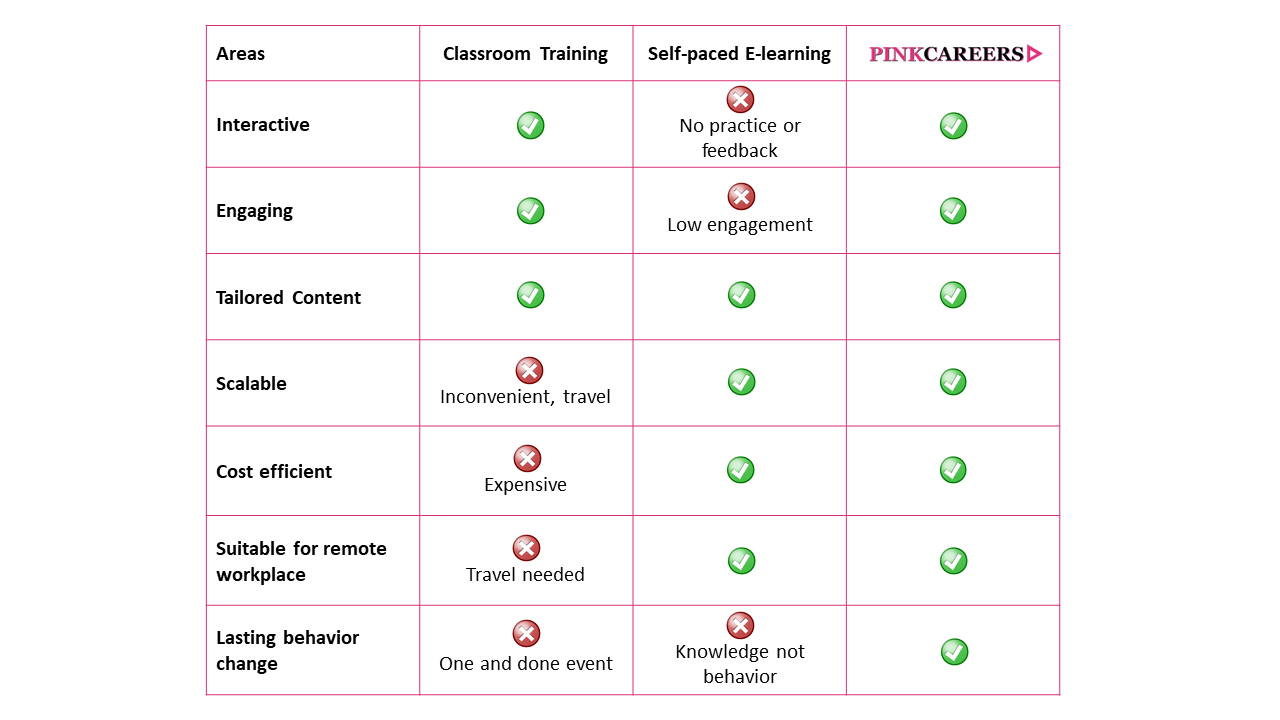 Be In-Charge of Your Career Development
Choose to master A LEARNING track or access unlimited live classes
New Manager Track
Skill up in new manager essentials like delegation, constructive feedback, conflict resolution and stakeholder management.
Own Your Career Track
Learn how to identify your personal brand, define better work-life boundaries, negotiate like a pro, and kick imposter syndrome.
Diversity and Inclusion Track
Foster an inclusive work environment by learning how to mentor female employees, leading effective meetings and becoming a male ally at work.
How Does It Work
PIVOT membership in Action
Choose Classes
Pick unlimited classes from a catalog of live career workshops or choose to complete a leadership track.
Learn Live
Attend the live, interactive session with a small cohort of peers, led by our roster of expert instructors.
Measure Progress
Review post-class action plan, complete session quiz, and self-monitor your progress.
Access Unlimited Live Workshops
\Learnworlds\Codeneurons\Pages\ZoneRenderers\CourseCards
Benefits for Employees
Access Live, expert-led trainings, when you need it, where you need it.
Live online classes
All classes are help live via zoom, allowing for maximum interaction and learning from the instructor and peer group.
Impactful learning
Small-group discussions and reflection sessions allow increased openness, sharing, and learning.
Practical and tailored content
We share practical and implementable advice on every-day challenges so employees are empowered to own their career and excel in the workplace.
Relatable Instructors
Our instructors have risen the ranks of corporate world themselves, which makes them relatable role models to our participants.
Benefits for Employers
leadership and career training so you can deliver on your diversity, inclusion and talent management objectives
Talent attraction
Gallup reports that 87% millennials want their job to offer employee development. Stand out as an invested workplace to attract the best talent.
Measurable behavior change
High-touch training and continual learning results in positive behavior change. Measure progress of your team through in-built quizzes, intuitive reporting and more.
Engagement and retention
Live, interactive sessions allow increased participation and retention. Bring powerful classroom experience to your learners and help them get the skills they need to excel in the workplace.
Turnkey and scalable
Our solutions are easy to deploy and scalable to any team size. Let your team own their career development through self-serve login, registration for upcoming classes, and progress monitoring.
Live, expert-led experiences are one of the most
compelling ways to learn.
PIVOT E-Learning
Career Training for the Modern Workforce


LEVEL UP YOUR LEADERSHIP SKILLS WITH LIVE, EXPERT-LED CLASSES AND SMALL PEER-GROUP LEARNING.
ACCESS UNLIMITED LIVE CLASSES FOR $79/MONTH.
Subscribe to our newsletter
Join 1000+ ambitious women who receive actionable, no-fluff career advice every Friday, so they can elevate their impact, career, and compensation.
Standout to the Recruiters!
Join the 5-day Pitch Perfect challenge to get awesome tips on how to craft the perfect Resume, Cover Letter and LinkedIn profile.


Claim 2 hours/day back!
Join the 10-day challenge to get one awesome productivity hack per day in your inbox.


4 Steps to Fast-Track Your Transition to Tech
Saturday
22 January, 2023
@ 11 am PST / 2 pm EST
Fast-Track Your Transition to Tech
8-week Group Coaching Program to help you land a $200k+ dream job without applying to 100s of applications online.
Thursday
7 Sept, 2023
@ 8:30 pm EST
Recession Proof Your Career: 3 Step Strategy to Land Your Dream Job in Any Market
Saturday
7 October, 2023
@ 9 am PST / 12 pm EST
Created with